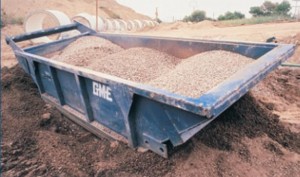 A manufacturing firm that produces high-quality trench shielding products. Its company growth over the past few years had led to increases in inventory levels, and it was concerned about the lack of "best practice" standards within its operations.
Reason for Project:
In order to accelerate improvements to their operations, the Client decided to hire an outside consulting resource to complete a value stream mapping project of their principal product families. The hope was that this project would lay the groundwork for a Lean manufacturing operation with standardized, "best-practice" processes that are documented and followed.
Project Deliverables:
Completion of a Value-Stream Mapping Kaizen of the top product families.
Completion of a Spaghetti-Flow Analysis to consider the material flow through the facilities.
A series of recommendations developed through the completion of Future State Value-Stream Maps.
Project Results/Benefits:
Productivity Increase: Streamlined flow of materials through primary facility.
Lead-Time Reductions: Average of 78% lead time reduction in order-to-shipment time in Vertical Shore Production.
Inventory Reductions: Elimination of 50-80% of the raw and in-process inventory.